Take a look at another new website recently launched for Kick Ass Hostels. Kick Ass have two fantastic hostels right in the centre of Edinburgh and came to us to provide them with a website designed for young backpackers from beginning to end. Every design, feature and page was created to appeal to them. It was also vital we captured the Kick Ass brand and community in the appearance and tone of the site.
Some things we implemented when working on the Kick Ass Hostels website are:
User Experience (UX)
Functionality
With Kick Ass we were able to integrate their website with a third party booking system so they can offer their customers a better price for their stay by booking with them directly as they won't have to pay the fees from going through a third-party booking channel such as booking.com.
As Kick Ass has a sister company 'Budget Backpackers' we set up a number of contact forms that all had to be directed to different email addresses and capture different info. The point of this is to direct enquiries between both Kick Ass and Budget Backpackers from the same website.
Navigation
As the primary goal of the website is to get bookings for the hostels, the booking feature is at the top of the homepage when first encountering the website. There is also an eye-catching bubble present on all pages to take you directly to a booking form.
A simple but effective navigation tool is the travel direction tabs, these make getting to relevant information quick and easy.

Design
Imagery
The imagery in this website is entirely focused on attracting young backpackers to the hostel, so we worked hard to capture and balance the Kick Ass brand design on the site. We integrated Kick Ass's Instagram feed on the homepage so that visitors to the website can appreciate the atmosphere as well as communicate the events, guests, facilities and community.
Layout
For the layout of this website is to convey a fun tone while easy to use and get information out that customers will find interesting, for this reason, the headline banner is regularly updated acts as a kind of notice board feature their latest offers and news which is always helpful and useful to potential customers, especially as it is one of the first things they'll see when first viewing the page.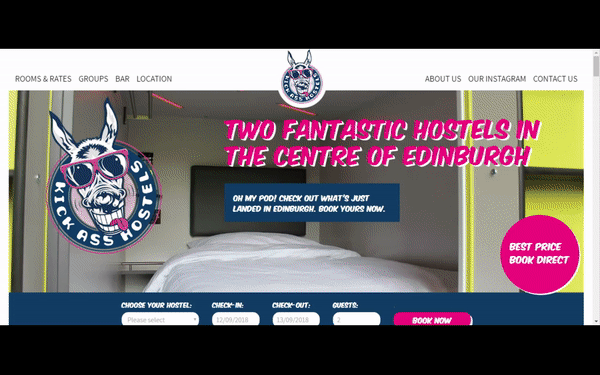 Click here to visit their website.