Which platform is best for you
It's easy to get excited about the new social media platform and convince yourself that you should be on it. However, the truth is that each platform has a specific demographic and audience so you need to find the right platform that will get you in front of your target audience.
Here is our quick and easy guide to each of the platforms and the predominant audience on each of them.

Facebook
Number of monthly active users: 2.91 billion
Approx.

44.84

million people are active on Facebook
That's

66%

of the entire UK population!

74%

of Facebook active users visit the site every day
Avg. time on Facebook per day

33

minutes
Largest age group:

25-34

(31.5%)

Gender:

43% female,

57% male

(no data on other genders)

19.4%

of Facebook users in the UK are seniors.
Facebook users are pretty well-distributed across all income levels.
Time spent per day:

33 minutes

Following last year's social media demographic data, younger consumers continue to flock to TikTok and Snapchat versus Facebook and Instagram.
Ad revenues continue to climb regardless of the gloom and doom about reach — this highlights how

Facebook ads

are a staple of marketing at large.
Summary
Facebook is a great platform for marketing to people aged +25. It's audience is well distributed across all income levels and it's popular worldwide making it a great social media network for brands of all industries and locations. It's the ideal platform for B2C and still worth marketing on if you're B2B though it doesn't beat LinkedIn when it comes to that audience.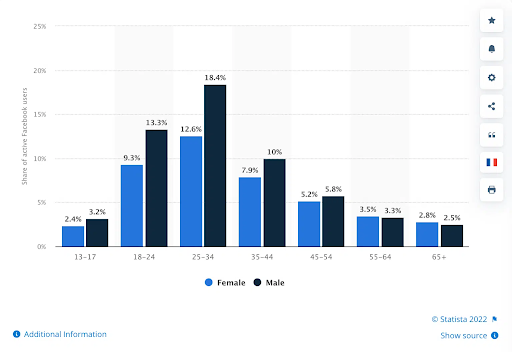 Instagram
Number of monthly active users: 2 billion
Largest age group: 25-34 (31.2%), with 18-24 close behind at 31%
Gender: 48.4% female, 51.8% male (no data on other genders)
Time spent per day: 29 minutes
The platform has quietly doubled their user base to 2 billion within three years, a staggering stat that proves Instagram's staying power.
Instagram maintains a firm hold on Gen Z and Millennials — these groups make up roughly two-thirds of their base.
Recent Instagram stats and new Shopping features (like Drops) signal the platform's shift to becoming an ecommerce hub.
Summary
A younger audience than you might think at the largest age group being 18 - 34 year olds accounting for 62% of the Instagram audience. A hugely popular photo and video-sharing social media platform. Users can even shop directly from e-commerce brands through the app. It's also known for its influencer community.
It's suited to B2C companies that are image driven.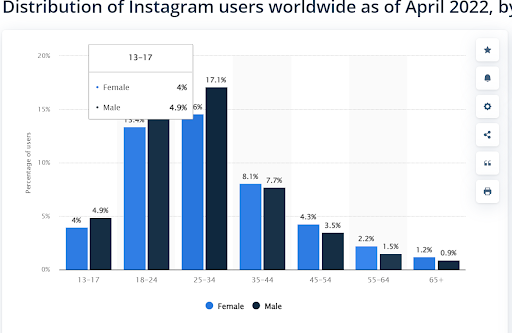 TikTok
Number of monthly active users: 1 billion
Largest age group: 10-19 (25%)
Gender: 61% female, 39% male (no data on other genders)
Time spent per day: 89 minutes per day
Fact: nearly 40% of Gen Z say they're directly influenced by products they see on TikTok and brands should take notice.

TikTok's audience heavily skews young, with a large Gen Z population. As such, it's a great platform for B2C brands targeting this demographic. With short-form video taking off, it's an opportunity for brands to not only hop on a growing trend but do it on a platform that caters to their target audiences.



Summary
A brand new and fast growing platform you'll no doubt have heard of, TikTok. It's the new platform all businesses think they need to be on. However, the reality is that their core audience are aged 10 - 19 years olds so all you need to ask yourself is this your target audience? If it is and your business and brand is image driven and lends itself to videos, then this is the platform for you.

Twitter
Number of daily active users: 211 million (up from 187 million)
Largest age group:

18-29 (42%)

Gender:

38.4% female, 61.6% male

(no data on other genders)
Time spent per day: 31 minutes
Despite recent growth (up from 187 million users last year), research predicts that Twitter will lose about a million users to other platforms over the next five years.
Twitter's status as a place to discuss events and gather breaking news make it a prime place to share content and drive discussions, but advertising is still tricky.
Summary
The issue with Twitter when it comes to advertising and marketing is less about its age audience which is primarily 18 - 29 year olds, but the fact that it's a platform for discussing events, getting breaking news and driving conversations. It was never designed for marketing and advertising in the way Facebook and Instagram have been. If part of your marketing strategy is to engage in conversations and debate Twitter is ideal but simply sharing content is going to have limited results.

LinkedIn
Number of monthly active users: 810 million
Largest age group: 25-34 (58.4%)
Gender: 48% female, 52% male
63% of LinkedIn users access the network weekly, and 22% daily
LinkedIn reportedly experienced

record revenue

, driven by the platform's growth during COVID-19 and increased interest in new jobs.

Although LinkedIn's user growth has slowed down, it's still the number one social media platform for B2B brands. It's full of decision-makers and young adults entering the workforce prime for social selling.
Summary
The number one platform for B2B businesses who want to target decision-makers, it is unrivalled in terms of social media platforms when it comes to business. While the largest age group is 25 - 34 year olds at 58% of the marketplace that still means that 42% of LinkedIn's audience is +34 years old.

Pinterest
Number of monthly active users 431 million
Largest age group:

50-64 (38%)

Gender:

78% female, 22% male

(no data on other genders)
Time spent per day: 14.2 minutes
Although Pinterest is largely considered female-dominated, the platform saw a surprising spike in male users during 2021.
Pinterest's social media demographic data is unique as their users are almost evenly split age-wise — 18-29 (32%), 30-49 (34%) and the largest demo is 50-64 (38%).
Summary
What makes Pinterest unique is its audience age range stretching from 18 - 64. It's a predominantly female audience and ideally set up for B2C companies which are again image driven. Also popular with designers.

Snapchat
Summary
Still a very popular platform for young people with the largest age group being 15 - 25 year olds. It's a great platform if you want to trendspot what younger consumers want. However, because of the limited ways that you can engage with the ads on Snapchat, it makes communication very restricted, therefore it's not ideally set up for advertising or marketing.

YouTube
Number of monthly active users:

2+ billion

Largest age group:

15-35 (highest reach)

Gender: 46% female, 54% male (no data on other genders)
Time spent per session:

~30 minutes

YouTube's popularity among younger users highlights the ongoing, long-term shift toward video content.
Marketers note that YouTube is still a sort of land of opportunity advertising-wise, viewing it as a place to put their ad dollars

in the future

versus the likes of Facebook
Given that

62% of YouTube's users

log into the platform daily, the platform has no problems with engagement and retention.
Still, the majority of users claim to use YouTube for entertainment rather than to find brands and products. Brands still have a lot of work to do on the platform, finding a balance between entertainment and advertising.
Summary
The key to marketing and advertising on YouTube is finding your balance between entertainment, information and advertising. The largest age group is 15 - 35 year olds. It does offer great brand awareness opportunities but your marketing needs to inform and entertain them. Very much a brand awareness exercise as opposed to selling.
Which platforms do we recommend for businesses?
For B2B businesses we would recommend LinkedIn and Facebook. For B2C businesses Facebook and Instagram. Posting on the other platforms will help to raise your brand awareness, just be aware of the age and demographics of that audience.